Regular price
$99.99 USD
Sale price
$79.99 USD
Unit price
per
Sale
Sold out
Blackberry and Milk rose is a beautiful rose. An exquisite mixture of colors. Fresh roses for you or the people you love. 
25 roses per box / 20 inches stem / Up to 3 inch flower.
Rosaexpress grows premium roses and deliver them to your doorstep.
Share
View full details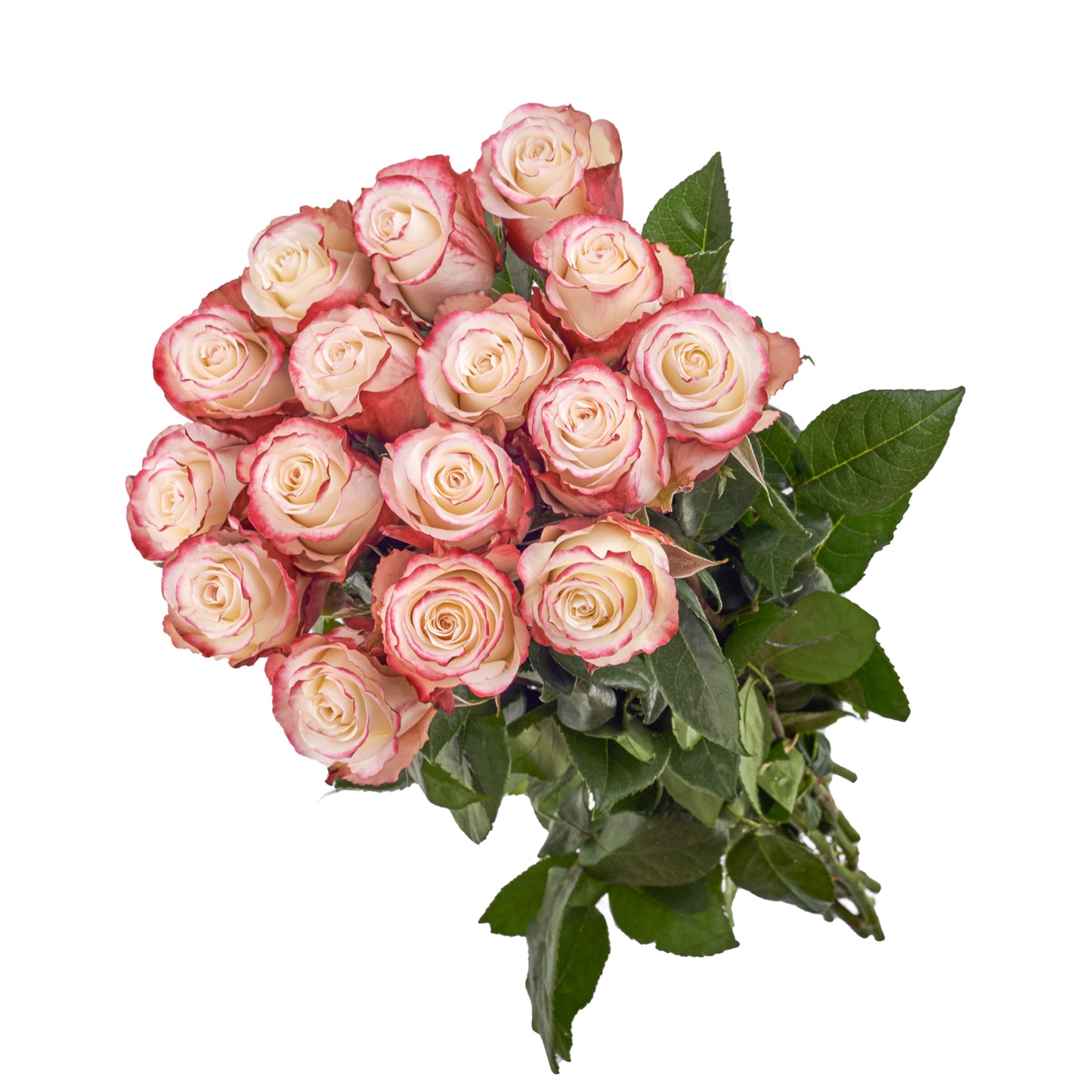 Below FAQ are some common concerns of our clients before purchasing. If you have any other question please fill the form below and we will get back at you as soon as possible.
WHY CHOOSE ROSA EXPRESS?

We offer freshly cut, high quality roses and unique floral arrangements at any time of the year. The best part is that we strive to provide the "best roses in the world" from our exceptional collection of vibrant rose colors to choose from. You can choose from 52 different rose variations—each representing a different color each week of the year. Our roses range in size from 50cm to 150cm and are maintained with the utmost care and love. You can feel confident that our farms follow sustainable and sensible environmentally conscious practices that go the extra mile to ensure your roses do not wilt. Our roses look just as fresh as the day they were first delivered to your doorstep. We support ethical and fair work practices and wages, and support hundreds of families and community members that make a difference in our lives by caring for and nurturing plants. We also offer free direct shipping and ensure that each bouquet of flowers is nurtured and cultivated from fresh farms before heading to your doorstep. The shipment travels from our farm, to your home — making your roses last even longer.
WHERE DO MY ROSES COME FROM?

It is said that the best roses come from Ecuador, a country whose climate provides optimal growth conditions. This is definitely not an understatement because the blooms speak for themselves. When you purchase a rose from us, you can feel confident that you are holding one of the "best roses in the world." The beautiful country of Ecuador is home to the best roses in the world, with its magnificent mountain ranges and climate that makes it easy to produce the best roses. As one of the largest exporters of roses, we are proud to send our roses to those who need them the most. Ecuador is located on the equator, making it a perfect location for helping roses blossom throughout the year while providing longer growth cycles for unique variations and colors of our roses. We believe our roses are one of the best roses in the world because each unique name, color, and scent has been nurtured with love directly from our sustainable farms in Ecuador. We chose Ecuador because it is a beautiful country with fertile land, making it an excellent choice for cultivating and producing one-of-a-kind roses. Ecuador's large mountain ranges and optimal growing conditions make for producing and cultivating some of the best products in the world such as cocoa, shrimp, and of course our favorite: flowers. Located at a high altitude, our roses receive ample sunlight, thus creating space for bright, vibrant blooms. With the abundance of water from the seven glaciers surrounding Ecuador, and the dedicated hands that care for the roses, you can expect to enjoy or give away the best roses in the world. We hope our roses help bring joy into your home or make someone's day.
HOW DOES ROSA EXPRESS GIVE BACK TO THE COMMUNITY?

We employ hundreds of farmers who help nurture and help find homes for our beautiful roses. Our roses are cultivated and nurtured predominantly by the hands of empowered women in search for a better quality of life for their families. We also support social causes and foundations like UNICEF and are committed to the well-being of our employees. As a company, we are committed to environmentally responsible practices and fair working conditions that foster and boost employee growth and happiness.
DOES ROSA EXPRESS FOLLOW SUSTAINABLE FARMING PRACTICES?

We are a team of passionate individuals who care about our planet and ways to follow a more sustainable and eco-conscious path for watering, soil care, and rose preservation. We are a team of nature lovers who not only sell flowers, but care about eliminating plastic waste, reducing our carbon footprint, and working towards a more sustainable world. We maintain constant communication with our farmers in Ecuador. We use biofertilizers, a compost system, and work with filtered water that is treated after every use. Our goal is to maintain healthy soil by rotating crops; better maintain and monitor water usage, have a pest management system in place, and promote the biodiversity of our flowers.
DO YOU SELL OUTSIDE THE USA?

We deliver all across the United States (Alaska and Hawaii included) at your doorstep. We could arrange a personal order outside the US but it would require you to pick it up at the airport.
HOW LONG DOES IT TAKE AN ORDER TO GET DELIVERED?

I takes around 4 - 6 days for your order to get delivered to you since we pick your roses from our farm the moment you place your order.